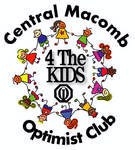 Central Macomb Optimist Club
2022 Accomplishments
THE CENTRAL MACOMB OPTIMIST CLUB IS A BUSY CLUB AND SPENDS EACH YEAR
HELPING THOSE LESS FORTUNATE THAN US.
BELOW ARE JUST A FEW EXAMPLES OF THE GREAT THINGS OUR CLUB DID IN 2022!
We took 150 needy children shopping for school clothes in August in partnership with the Macomb Charitable Foundation and the Macomb County Sheriff's Department.
Held a July Road Rally raising money for Shop with the Sheriff.
We raised over $6000 from our 3rd annual Yeti cooler raffle for our Childhood Health & Wellness initiatives.
We held another successful January 2022 lottery raffle
We were proud to support the St. Peter Charity Garden with 3 new garden boxes.
We donated to Troop 1407 and Troop 209 leadership academy attendees.
We donated Kroger gift cards to 3 families to ensure they had a Thanksgiving dinner.
We adopted a family with 6 children for Christmas along with the family's needs.
We adopted a military family for Christmas
We adopted a survivor at Turning Point for Christmas that left her abusive situation with only the clothes on her back.
Our members helped wrap Christmas gifts for foster children at Big Family of Michigan. Big Family sponsored Christmas for over 2000 foster children.
We made 120 Fleece blankets for Fleece & Thank You for children that were admitted to the hospital.
We donated 4 filled stockings for the children supported by Macomb Foster Closet.
Two mitten trees helped support Big Family of Michigan, Macomb Foster Closet and an under-served school.